IMPORTANT DATES AND TIMES TO REMEMBER FOR ON-TIME BILL PAYMENT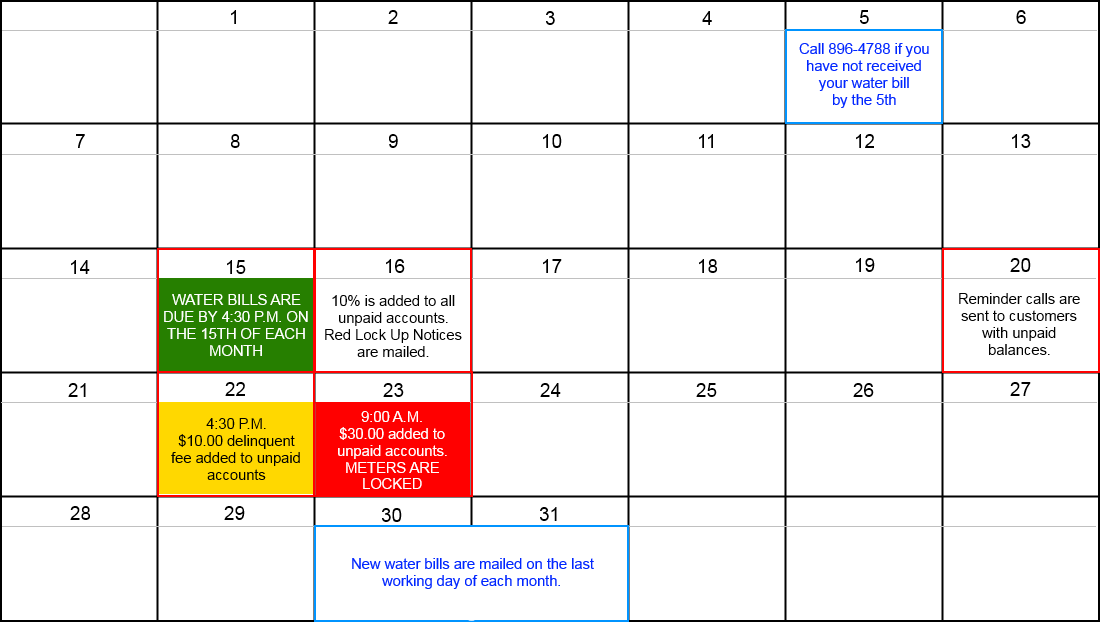 WHEN WILL I RECEIVE MY BILL?
Bills are mailed out the last working day of the month. Not all bills get delivered to the right address. You are responsible for your bill, even if you do not receive one. If you have not received your bill by the 5th of the month, call our office to learn the balance due.
WHEN THE 15th or 22nd FALLS ON A WEEKEND OR HOLIDAY
Payment should be made by 4:30 p.m. through our 24-hour drop box or on-line through this website so further penalties are not incurred.
WHEN THE 23rd FALLS ON A WEEEKEND OR HOLIDAY
If payment is not received by 9:00 a.m. ON THE 23rd, service will be disconnected. All account balances, plus a $30.00 reconnect fee are due before service can be restored. If the 23rd falls on a weekend, service will be disconnected on the next business day.
WHAT HAPPENS IF I AM LOCKED OUT FOR NON-PAY, AND MAKE A PAYMENT AFTER OFFICE HOURS?
NO AFTER-HOUR TURN ONs
Payment can be made through Invoce-Cloud online, or the drop box by our front door. Service will be restored the following morning, after 8:00 A.M. No exceptions.
Please call us during regular business hours with questions or concerns at (573) 896-4788.